Nazareth communicates purpose, vision and mission with stunning bus graphics.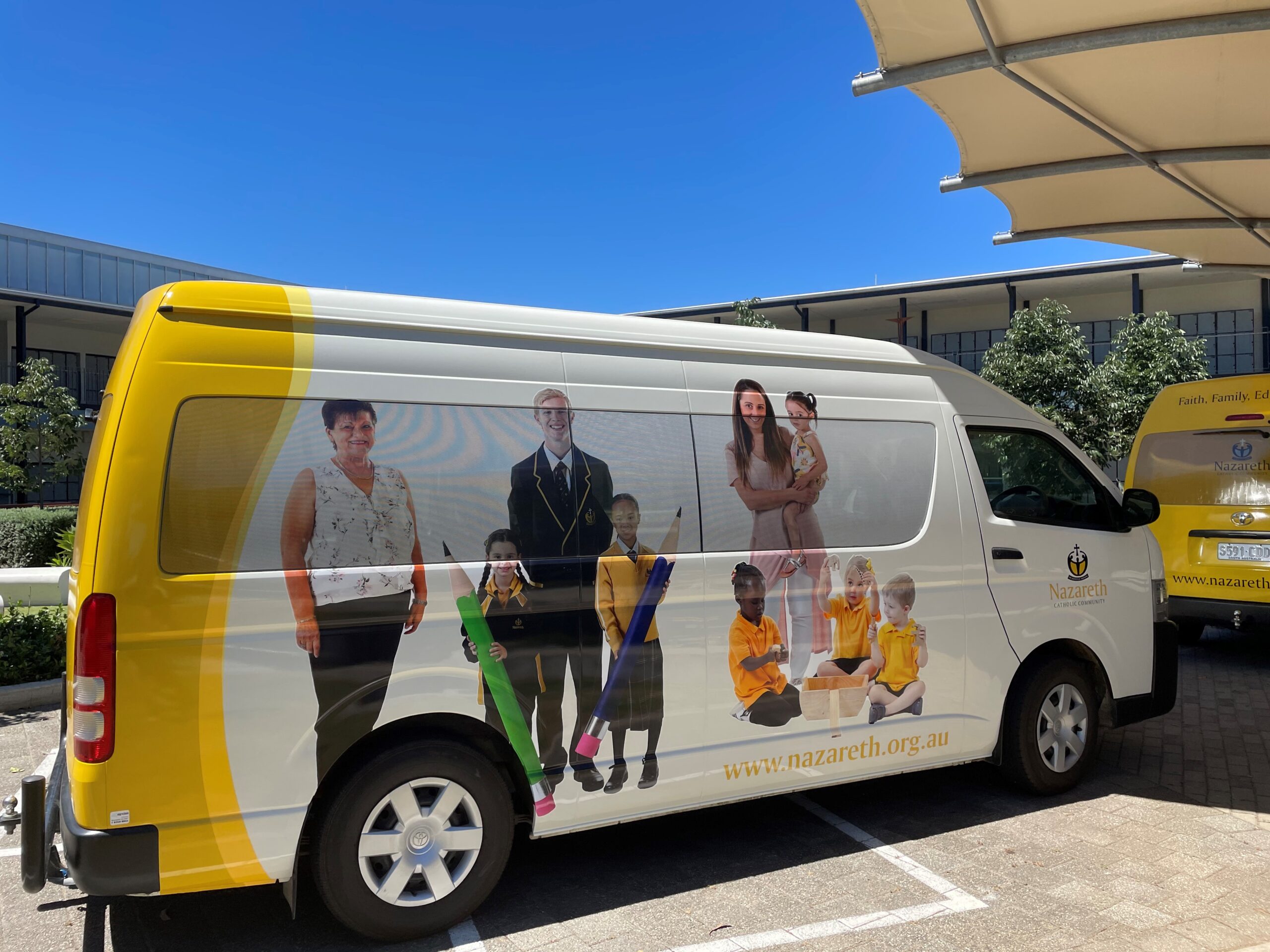 Got something important to say? Say it in style.
Led by the calling to love one another, Nazareth is committed to building community, nourishing family life and making the world a better place.
Nazareth has wisely used visually appealing, custom designed vehicle graphics to turn their buses into a valuable marketing asset, creating a strong school identity within their local catchment and beyond.
More than just transport, an appropriate balance of eye-catching decals and lettering enables Nazareth to communicate their message of community, welcome, connecting faith, family, and education.
These vehicle signs were custom printed locally at our Brompton factory.
A new custom fabricated pylon sign now majestically adorning the school entrance was also manufactured at our Brompton factory.
We then applied the wraps to the buses as part of our in-house, integrated service to complete the project.
Other popular custom sign ideas:
Opal launches with a stunning splash of colour using custom metal signs.
Schindler handmade sign adds the extra to the ordinary.
Nutrien custom shop signs push new brand further.
Edible Blooms window signs add a world of colour to the world of gifts.
Country Blinds use eye-catching custom fascia signs to sell family story of quality.
Explorer sells traveling lifestyle with stunning new shopfront signs.
Kent Civil engineers custom outdoor sign strategy for new location.
At BWS you'll always find a great way to celebrate, thanks to their smart retail signs.
Access brings people to it's door with highly visible printed fascia signs.
MM Electrical sparks new local presence with indoor and outdoor custom shop sign fit-out.
Related products
signs, bus signs, bus graphics, bus lettering, bus decals, vehicle signs, vehicle wraps, vehicle graphics, vehicle decals, pylon signs